Belle Plaine will be performing at Main & Station on June 9th at 8pm.
Tickets are $15.00 for the show or $40.00 includes supper (choice of appetizer, main, dessert & coffee or tea) ) and the show.
For reservations please send an email to

 
.
HAVE A LISTEN…https://www.youtube.com/user/BellePlaineMusic !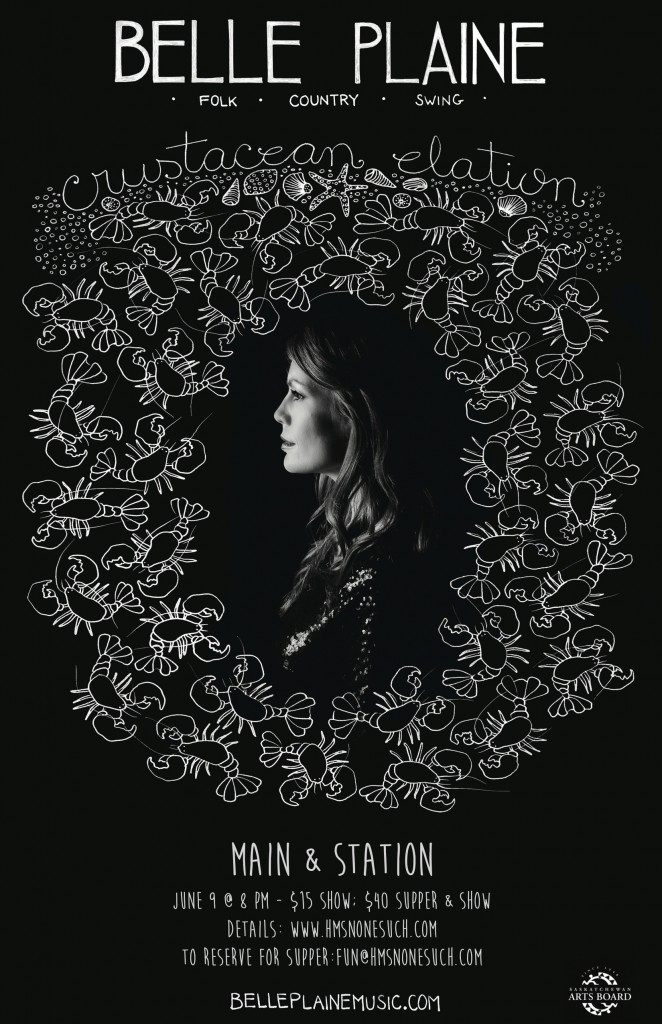 Prairie Songstress Belle Plaine Announces
Crustacean Elation Maritimes Tour
FOR IMMEDIATE RELEASE – May 22 2015 (Regina, SK) – Belle Plaine and her longtime collaborators Jeremy Sauer and Elizabeth Curry will take their classic country, swing and folk music performance on the road at the end of May for a month-long, 22-show tour to urban and rural communities in the Maritimes. The trio toured parts of the region last year and were enamored with the people, the culture, and the crustaceans. They want to return to play music, share the Saskatchewan culture and of course to eat a lot of fresh in-season lobster and mussels. Now they are excited to announce their tour, including their first-time visit to New Brunswick. The show is for audiences who enjoy artists such as Emmylou Harris, Patsy Cline, Jill Barber & Rose Cousins.
"Why do I love the Maritimes? It's the people. They're lovely. There's some innate understanding between prairie and maritime folk. It's a strange connection that I can't put my finger on. I don't know that I need to comprehend it, I just love that I feel it." – Belle Plaine