Belle Plaine will be performing at Main & Station on June 9th at 8pm.
Tickets are $15.00 for the show or $40.00 includes supper (choice of appetizer, main, dessert & coffee or tea) ) and the show.
For reservations please send an email to

 
.
HAVE A LISTEN…https://www.youtube.com/user/BellePlaineMusic !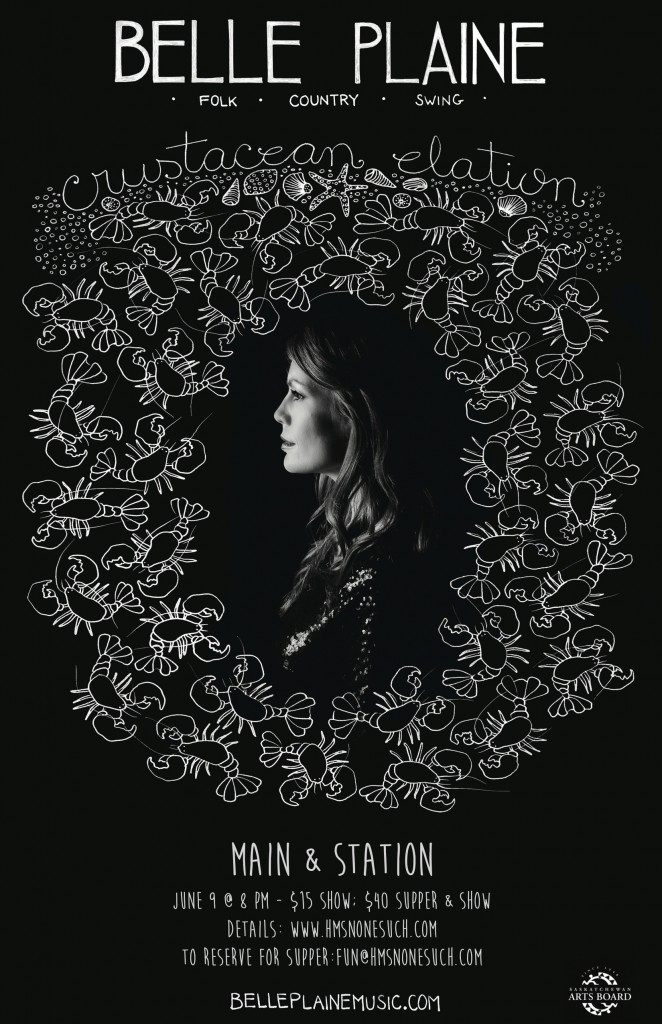 Prairie Songstress Belle Plaine Announces
Crustacean Elation Maritimes Tour
FOR IMMEDIATE RELEASE – May 22 2015 (Regina, SK) – Belle Plaine and her longtime collaborators Jeremy Sauer and Elizabeth Curry will take their classic country, swing and folk music performance on the road at the end of May for a month-long, 22-show tour to urban and rural communities in the Maritimes. The trio toured parts of the region last year and were enamored with the people, the culture, and the crustaceans. They want to return to play music, share the Saskatchewan culture and of course to eat a lot of fresh in-season lobster and mussels. Now they are excited to announce their tour, including their first-time visit to New Brunswick. The show is for audiences who enjoy artists such as Emmylou Harris, Patsy Cline, Jill Barber & Rose Cousins.
"Why do I love the Maritimes? It's the people. They're lovely. There's some innate understanding between prairie and maritime folk. It's a strange connection that I can't put my finger on. I don't know that I need to comprehend it, I just love that I feel it." – Belle Plaine
TOUR DATES
May 30th Liverpool, NS   Lane's Privateer Inn
May 31st Halifax, NS    Taz Records
June 2nd LaHave, NS   LaHave Bakery
June 3rd Middle West Pubnico, NS Red Cap Restaurant
June 4th New Minas, NS   Edible Art Café
June 5th Margaretsville, NS  Evergreen Theatre
June 6th Wolfville, NS   Wolfville Farmer's Market
June 9th Parrsboro, NS   Main & Station
June 10th Sackville, NB   Bridge Street Café
June 11th Gagetown, NB   Creek View Restaurant
June 12th Fredericton, NB   Gallery 78
June 14th St Andrews, NS   Kingsbrae Gardens
June 15th Moncton, NB   Plan B
June 17th Festival of Small Halls, PEI Brae United Church Hall
June 18th Festival of Small Halls, PEI St John The Evangelist Anglican Church
June 19th Festival of Small Halls, PEI New London Community Complex
page 1 of 2
June 21st Charlottetown, PE  Baba's Lounge
June 23rd New Glasgow, NS  Eventide Art Hub
June 24th Antigonish, NS   Dream Catchers
June 25th Inverness, NS   Inverness County Centre for the Arts
June 26th Guysborough County, NS Seawind Landing Country Inn
June 27th Halifax, NS   The Company House
LIVE SHOW
Expect to be wowed by pianist,  Jeremy Sauer. Be prepared to be bewitched by Elizabeth Curry's adept upright bass playing and soulful back-ups.  Allow your heart to be washed of its worries with Belle's voice.  Her honesty and warm charm are surefire, made sharp by surprisingly salty remarks. The songs range from folk to jazz to country, bound together seamlessly through the wry storytelling of an open- hearted woman. Expect original music and cover songs by Saskatchewan songwriters such as Buffy Sainte-Marie, Joni Mitchell, and Blake Berglund.
Squint so the world goes a little blurry and you'd be forgiven for mistaking Belle Plaine's vocal performance for something out of the 60s jazz scene. - The Coast (Halifax)
ABOUT BELLE PLAINE
Raised in the farming community of Fosston, Saskatchewan, Belle's distinctive sound draws from her musical background: 12 years of classical vocal training, followed by jazz/ contemporary music study at Grant MacEwan College. Her singular and textured voice lends itself to various styles of music, from outlaw country to 1940s swing.
Belle Plaine's debut album Notes From A Waitress earned the #3 position on the !earshot National Jazz Chart and #1 on Edmonton, Ottawa and Lethbridge Jazz charts in early 2012. The 2013 JUNO Host Committee selected Belle as a representative of local artists. She was also selected to perform official
showcases at BreakOut West and Folk Alliance International Conference in 2013. She's earned the titles of Best Singer, Best Solo Act and Best Local Album by readers of Regina's prairie dog magazine. In October 2014 she was named Emerging Artist by the Regina Mayor's Arts and Business Awards. She's criss-crossed North America in the years since, playing from coast to coast at events like the Festival of Small Halls (PEI), Regina Folk Festival (SK), 2014 Celebration Zone (PE), and Folk Alliance International.
Belle Plaine has released two albums to date: Hello From Belle Plaine and Notes From A Waitress.  2015 will see the release of The Unrequited Love, a live album recorded with her eight piece band on Valentine's Day, and the release of a 7" vinyl of Zachary Lucky covers with her cowboy sweetheart, Blake Berglund. She is honoured to collaborate with these fellow SK artists, as well as Jason Plumb, Monique Blom, Colter Wall, Chad Geran, Carey Shaw, Michael Bell, Terri Fidelak, and Chris Graham.
RESOURCES
Images & MP3s: https://www.dropbox.com/sh/lx4hden9xdjd22y/AAAdtLu7LN6aAnGvR3NQef8ia?dl=0 Soundcloud: https://soundcloud.com/belleplaine/sets/notes-from-a-waitress
Website:  http://www.belleplainemusic.com
Twitter: https://twitter.com/Belle_Plaine
Facebook: https://www.facebook.com/belleplaine?fref=ts
YouTube: https://www.youtube.com/user/BellePlaineMusic
For media requests please contact:
Susan Busse, Publicist    306.281.3652    susan@susanbussepr.com
-30-