NOTE: This event has been rescheduled to June 2019… see here for info http://hmsnonesuch.com/trashorama/
A CONVERSATION – EXPLORATION – CELEBRATION
ART & GARBAGE – where do or can they intersect
Call for proposals and submissions from artists, environmentalists, and scientists / Demande des propositions et soumissions d'artistes, d'environnementalistes et de scientifiques fun@hmsnonesuch.com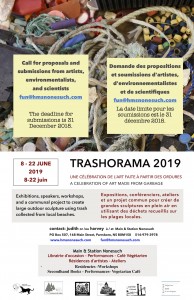 DOWNLOAD THE PROPOSAL & SUBMISSIONS FORM HERE TRASHORAMA SUBMISSION & PROPOSAL FORM  TRASHORAMA 2019 PROPOSAL FORM

TÉLÉCHARGEZ LE FORMULAIRE ICI TRASHORAMA FORMULAIRE DE PROPOSITION ET DE SOUMISSION TRASHORAMA 2019 FORMULAIRE DE PROPOSITION ET DE SOUMISSION
What is trash and what is disposable?
Does anything ever really go away?
What does biodegradable really mean?
Most trash is simply moved or hidden out of sight, and more and more often shipped to less affluent places to be processed
Some is actually broken down into usable components again.
This is happening more and more.
But the majority of the garbage we produce still ends up in landfill, floating in the ocean, ingested by humans and by wildlife, burned under conditions that leave behind residues and send toxic pollutants into the atmosphere, and at illegal dump sites which now exists in almost every environment on this planet from ravines in the remote Himalayas to public parks and ditches in urban centres with regular garbage pick ups.
How much of what we call trash is still useful?
What can be done with all of this wasted material?
What does this mean for the planet?
What does this mean for humans and other species?
What about the dumpsters outside large groceries stores which provide nourishment (provided the company does not chain them up) to myriad people who struggle to make ends meet or live out or simply choose to make use of this so called "garbage" rather than see it wasted?
Artists, scientists, and others are constantly finding new approaches to the trash problem and new ways to use exisiting materials once they have served their original purpose.
New biodegradable materials derived from algae and fungi are being developed to replace plastics. Some are already in use.
Artists around the world are finding creative ways to repurpose what most simply view as something to toss away.
Trashorama aims to highlight some of these myriad creations and innovations as well as to encourage the sharing of ideas, knowledge, and inspiration among participants and the public.