English Follows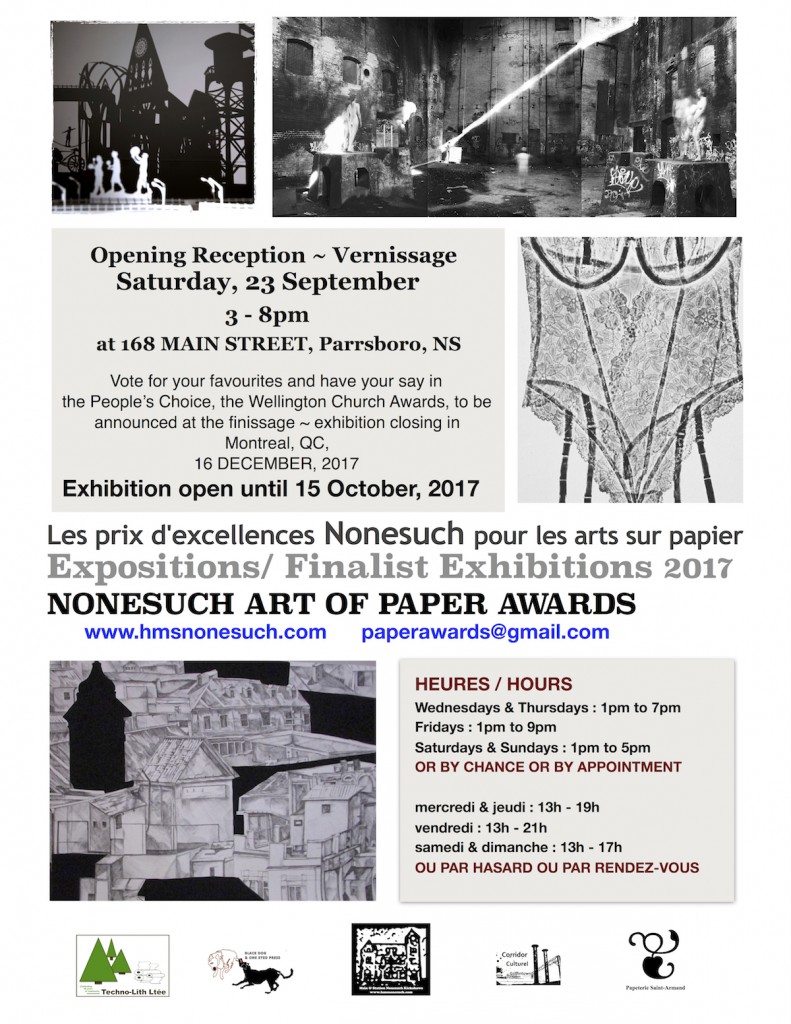 En 2017, nous avons reçu plus de 220 soumissions de 16 pays pour les prix d'excellence Nonesuch pour les arts papier. Les expositions auront plus de 75 œuvres des artistes en Argentine, Australie, Belgique, Canada, Colombie, Allemagne, Israël, Italie, Japon, Nouvelle-Zélande, Pologne et États-Unis.
6 prix seront remis: 4 sélectionnés par le jury et les prix de choix de 2 personnes sélectionnés par le vote des visiteurs lors des expositions de Parrsboro et de Montréal.
Une réception d'ouverture ~ vernissage aura lieu le samedi 23 septembre de 15h à 20h au 168, rue Main, Parrsboro (N.-É.).
L'exposition à Parrsboro durera jusqu'au 15 octobre. Les HEURES de l'exposition serait :
mercredi & jeudi : 13h – 19h
vendredi : 13h – 21h
samedi & dimanche : 13h – 17h
OU PAR HASARD, OU PAR RENDEZ-VOUS
—————————–
In 2017 we received over 220 submissions from 16 countries for the Nonesuch Art Of Paper Awards exhibitions. The exhibitions will feature over 75 works from artists in Argentina, Australia, Belgium, Canada, Colombia, Germany, Israel, Italy, Japan, New Zealand, Poland, Switzerland, and the United States.
6 awards will be given:
4 selected by jury and 2 people's choice awards selected by visitor voting during the Parrsboro and Montreal exhibitions.
The Opening Reception ~ Vernissage will be on Saturday, 23 September from 3 – 8pm at 168 Main Street, Parrsboro, NS.  The exhibition will remain open until 15 October, 2017 and the Exhibition HOURS will be:
Wednesdays-Thursdays, 1pm to 7pm
Fridays : 1pm to 9pm
Saturdays & Sundays : 1pm to 5pm
OR BY CHANCE OR BY APPOINTMENT