Tag Archives:
call for submissions
 NOTE: This event has been rescheduled to June 2019… see here for info http://hmsnonesuch.com/trashorama/
A CONVERSATION – EXPLORATION – CELEBRATION
ART & GARBAGE – where do or can they intersect
Call for proposals and submissions from artists, environmentalists, and scientists / Demande des propositions et soumissions d'artistes, d'environnementalistes et de scientifiques fun@hmsnonesuch.com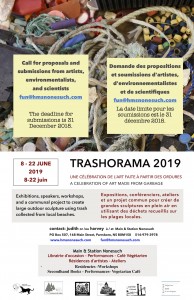 DOWNLOAD THE PROPOSAL & SUBMISSIONS FORM HERE TRASHORAMA SUBMISSION & PROPOSAL FORM  TRASHORAMA 2019 PROPOSAL FORM

TÉLÉCHARGEZ LE FORMULAIRE ICI TRASHORAMA FORMULAIRE DE PROPOSITION ET DE SOUMISSION TRASHORAMA 2019 FORMULAIRE DE PROPOSITION ET DE SOUMISSION
Main & Station Nonesuch Kickshaws is organizing a series of informal discussions and presentations. The aim of this series is twofold: to provide opportunities for people to share their knowledge, experiences, ideas, and passions as well as to have good conversations with interesting people.
The talks will be scheduled between at various days and times depending upon the availablity of the speakers and the space.
Talks can be any length but we recommend something that is anywhere from 20 – 45 minutes followed by a period for questions & discussion.